Services: Lash lift and Eyelash lifting
More and more people are encouraged to try it. The eyelash lift or how to make your eyelashes look long, very long for weeks. Yes, and without the need to use mascara. Like a magic trick, come on.
But it is normal that you still have your doubts about this treatment. What does it really consist of ? How does lash lifted? Is the result better than eyelash extensions ? Do not panic! We tell you everything and leave making decision about having XXL eyelashes to you. But we already know, once you finish reading this page, surely you want to try them too!
The important thing is to go to a specialised salon where we know exactly what you are looking for. Here we will know how to explain the process step by step, and you won't have heart attack tabs with us after seeing the result. The best places in Perth? We know that we are the best beauty salon where you can go for a lash lift to pamper your lashes as they deserve. And hey, we are doing it for a while, so we do know! Because the important thing is that the result is 10 out of 10. And in Elite Look… It's a sure bet!
Where is the trick?

The trick is to stretch your lashes from the roots. Because you may already have them long, but our eyelashes tend to grow horizontally and not up. The lifting seeks to stretch them in such a way that they are on the eyelid upwards and are more visible, making that effect of XXL lashes.
How does the eyelash lift look?
The million-dollar question. We have seen eyelash extensions a lot of times, and we know more or less how they look. But when it comes to the lash lift… Will it look good on me? Will it look bad on me? It is normal that you do not have an idea of ​​how they look. But it is because basically the aim is to make the result look as natural as possible. Of course, getting the most out of your eyelashes. That is, it looks as if you had put on the best mascara in the world, and it will hold you intact throughout the day. With long, black, separated eyelashes.
Does the lash lift spoil my natural lashes?
No way! The lash lift uses special products for your eyelashes and, made in a beauty salon with professionals, there is nothing to worry about. The setting gel is used to leave the shape of your lashes up (and last for six weeks or so) and then put a little tint to make them look total black during all this time.
And then? They will go back to their usual form by themselves. But do not worry because they will not fall, or break, or anything at all.
Eyelash Tinting and Eyebrow Tinting price.
Save your precious time and money. You will be able to spend more time in the bed every morning and forget about makeup for a while.
Get your Lash Lift done in Elite Look Perth
How long does the eyelash lift last?
The eyelash lift… There are so many questions about this beauty treatment: what is it about, the before and after if it is the same as the eyelash extensions … Don't worry! If you had doubts, Elite Look to the rescue!
And we know everything about this treatment. Hey, why not, we've also compared it to eyelash extensions and perm to find out which one is better. But… exactly how long does it last? We also will tell you!
Yes, as you hear it. You could see in a row every season of The Simpsons, Friends and Breaking Bad – about 19 days in total – that your eyelashes would still be intact. Come on, as if you dare to also see the episodes of The Big Bang Theory. Trust us, your XXL lashes will hold up to any couch, blanket, and Netflix marathon you put your mind to.
Do eyelash lift last longer than eyelash extensions?
Eyelash lift last exactly the same. The problem with eyelash extensions is that they fall out with natural eyelashes. And with the lifting, the eyelashes return to their natural shape after two months. Although with the two treatments you can return to the salon to get a touch-up and the result will last much longer.
And how is it that they hold out so much?
To make the eyelashes look long and infinite for so long, a fixing gel is applied that can last up to two months. And the best? That you can keep putting on the mascara that absolutely nothing happens. As if you want to bathe in the pool, your eyelashes will resist any adventure!
But … what does it really consist of?

The eyelash lift lengthens the lashes from the root. Pads are put on the eyelids to glue the eyelashes, and from there the fixing gel is put so that they are stretched for months. The good thing is that the result is completely natural. And it does not damage the eyelashes at all.

And the best? That you can do this treatment for only 90 dollars. Hey, every two months… It's a great deal!
The lash lift is also often described as a lash wave. With the lift, the lashes are permanently brought (usually for several weeks) to an upward curved shape. This way you look fresher and more awake, you look much more attractive on the outside, and you usually even save on mascara.
It is offered professionally in beauty salons, the cost is about 80 to 200 AUD. To achieve the perfect lash wave, a silicone pad is placed on the eyelid, on which the lashes are applied. This is followed by first applying a product that dissolves the structure of the eyelashes – and therefore their original shape – and then a second product to fix the eyelashes in the new shape.
You will find more information on this in the next paragraph. Since this procedure involves the handling of chemicals, it is important to keep the eye closed during the procedure. The results are convincing and make the eyelash lift a very interesting alternative for all those who want to show off a fresh look in the morning after waking up or who want to leave the eyelash curlers in the closet.
How does the lash lift work?
Before starting the lash lift kit, the eye area is first cleaned of fat and debris to ensure that everything remains as desired. The next step is to comb the lashes. Next, on the upper eyelid, the silicone pad is applied. Manufacturers offer different sizes here, depending on the strength that you want to give the effect. The tabs are then fixed with an adhesive on the silicone pad in the desired position. Now the first agent is used, the permanent call. It dissolves the sulfur bridge of the eyelashes and, therefore, their structure, in a similar way to how hair is dyed. This is important in order to be able to fix the lashes in the second step in the current and desired position permanently.
The exposure time of the permanent agent varies from manufacturer to manufacturer and ranges from 5 to 20 minutes. Make sure the agent doesn't get in your eyes. If you do, carefully rinse the eye with water. At the end of the application time, apply the second product to set the eyelashes. Again, you have to let it act for 5 to 20 minutes. If you wish, you can now tint your eyelashes (leave), then carefully (!) The silicone pad is removed. For this reason, some lashes are easily left and tear, so you have to proceed very gently. Once you have removed the pad, you are done and can immediately admire the wave of the lashes in the mirror.
Common problems in the application of the eyelash lift set
In this photo we have a great eyelash lift before and after, however, you need to pay attention to some details before applying it, and they are.
For several reasons, the eyelash lift is a procedure that requires great care to get everything right. Firstly, you are handling chemicals in the eye, secondly, the eyelashes are very fine hairs that are easily pulled out. Problems can arise, especially with these points:
Glue: Many customers complain that the glue does not hold properly. Degreasing is often forgotten before treatment, sometimes it also helps to treat the lashes in advance with a primer to fully degrease them. In addition, the eyelashes must be absolutely dry. However, sometimes the adhesives are just poor quality, in our test we dig into this point if necessary. Attention: Too much glue causes the media not to be properly absorbed by the lashes, which in the end does not create the desired effect.
Pads: The silicone pads should extend over the entire eyelid. This is the only way to make the outer lashes curl as well. Also pay attention to the curvature of the pad. The small (S) variants promise a strong curl, but they usually have no effect on longer lashes. The curve of the pad should be as long as your lashes.
Permeation and Fixation Agents: Pay close attention to the specified application times for the agents. Thicker lashes tend to take a little longer than thinner ones. However, you do not have to change the times according to the feeling. Prolonging the application time, in particular, can damage the lashes, making them appear burned on the outer edge. Be careful!
Questions and Answers
How can I avoid physical reactions to chemicals?
Testing the product at least 24 hours before. Follow the manufacturer's instructions. Normally, it is recommended to apply a small drop of the product on an eyelid and observe if reactions appear. If any product gets into your eye during treatment, you should immediately rinse it carefully.
Glue from lash lift kit, won't hold. What I can do?
Make sure to properly degrease your lashes before treatment. An eyelash cleanser or primer can help.
How long does a lash lift last?
This varies and depends on the product used, but also on your lashes. However, as a general rule, the eyelashes should remain in perfect condition for several weeks.
Eyelash lifting, what it consists of and post-treatment recommendations.
The Eyelash Lift is a treatment that lengthens and creates a slight upward curve in a natural and lasting way, achieving greater length and thickness.
It is the eyelash itself that rises from the root, raises the curvature of the eyelash naturally "
The process is carried out thanks to a new technique, in which silicone pads are used, which adjust to the eyelid and after applying lifting gel, stretching from the roots to the tips is achieved.
It is raised, without bending, the hair towards the end and thus generates greater length.
After lifting, natural lashes will appear visibly thicker and longer without the need for extensions.
Creates an effect of greater length and thickness.
How long does a lash lift last?
The lash lift procedure takes about 1 hour.
The results last between 6 and 8 weeks depending on the post-care, that is, how careful and constant you are in the hydration of your eyelashes.
It is a great advantage for those who lack time for touch-ups. You will be able to show off longer and more beautiful eyelashes for approximately 6 weeks, here the nature of your eyelash comes into play.
A very important factor that will have an impact on the duration of the lift is the current state of your eyelashes, for example, if they are dehydrated due to lack of care, or burned after a bad practice of eyelash curling.
NOTE 1:
In case there is any problem with your facelift, you have a period of 3 days to return and make any correction.
NOTE 2 :
It is absolutely essential to use a regenerating cream, balm, or moisturizer on the eyelashes after performing this treatment, since the eyelashes when going through a chemical process, although mild, can become dry, messy, and lighten in colour.
All this is avoided by applying regenerating or moisturizing cream every night.
Elite Look is not responsible for the result of the use of external products that are used to care for the eyelashes, after the Eyelash Lifting treatment and the results thereof.
NOTE 3 :
Eyelashes can be bent, kinked, or messy if you are a person whose posture is to sleep with your eyes pressed on the pillow. If this is your case, and you woke up with messy eyelashes, don't be alarmed !!! All you have to do is wet a goupillon of eyelashes (lash brush) and comb them upwards, as this will make the lashes return to their order and natural shape.
NOTE 4 :
It is the customer's responsibility to find out about all the details of this service (and any other service that he wishes to perform), including aftercare, terms, and conditions thereof.
Elite Look does not assume responsibility for claims generated by clients who have not read the information published on this page.
It is the client's obligation to research and inform herself before performing any beauty or aesthetic treatment.
Eyelash Lifting Post Treatment Recommendations
The first 24 hours:
Do not expose yourself to steam (long showers, sauna, Turkish bath).
Do not use mascara.
Do not perform physical activities where there is excessive sweating.
Do not use a curler, spoon, or any other instrument on the eyelashes.
Do not wet, moisten, apply cosmetic products or makeup for the first 12 hours to prevent the treatment from losing part of its effect.
Avoid that the eye area has contact with creams or oils.
Wash your face only with cold water.
Avoid getting the facial soap in contact with the eye area.
Avoid contact of the eyelashes with seawater.
Avoid chopping an onion or other foods that generate tears.
Avoid touching or rubbing the eye area.
Avoid pressing the eyelashes on the pillow when sleeping.
Do not sleep with a mask.
After 24 hours :
Wash the area with warm, not hot, water.
Use bi-phase eye makeup remover to remove all makeup from the eyelashes.
Do not sleep with the mask as it mistreats the eyelash and shortens the effect of the treatment.
Use regenerating cream, balm, or eyelash moisturizer at night (essential).
Avoid pressing the eyelashes on the pillow when sleeping.
Do not use a curler, spoon, or any other instrument on the eyelashes
Avoid using waterproof mascara, since removing this type of makeup can contribute to losing multiple lashes.
Frequent bathing in seawater can greatly shorten the effect of the treatment
Do not sleep with a mask, unless it has special eye cups for this treatment.
Only use mascara that is not waterproof
Sleeping with a mask that has eyecups to protect the eyelashes, thus avoiding crushing them with the pillow and modifying their curvature
Eyelash lift before and after
Can you imagine not having to wear mascara for two months? And still wear XXL eyelashes? Oddly enough, it is possible. Say hello to the lash lift.
But we know that that eyelash lift thing can sound strange, and even give some qualms. Do not worry. We bring you the step by step of this fashionable treatment so that you can see exactly how you will be able to wear a heart attack eyelash in less than an hour. And say hello to a spectacular look!
Ready to know everything about this treatment ?
Step 1
Bring the action. First and super important: remove the remains of makeup. Relax and enjoy the moment while they pamper your lashes.
Step 2
Step number 2: put the adhesives on the lower part of the eyelid to protect it and the pads on the upper part that will serve to shape your eyelashes.
Step 3
Then we will put the glue on the pads, thus gluing your eyelashes one by one to the upper part of the eyelid. But there is nothing to worry! This doesn't hurt at all. Little word. So you let yourself be done.
Step 4
Once glued, a gel will be applied to help the eyelashes curl. In this step, you work tab by tab, making sure that they all end up having the shape you want.
Step 5
And … it's the turn of the fixing gel. That is, as if you were putting gel on your lashes. Only the result is semi-permanent. Do you want to know how long the result lasts? With this, the form should last you around two months. We love it!

Step 6
Almost done. It is the turn of the dye. Shadow here, shadow there, tint here, tint there, and you will wear XXL lashes: long, voluminous and total black.
Step 7
And now … Back to normal. Out tint and pads, so you can see the end result. Ready?
Step 8
Voilà! As if it were a magic trick. In the blink of an eye (pun intended) your lashes have completely changed. How about? Say yes to the lift tabs !
Do you have more questions about the eyelash lift? Do not worry! Here we solve all your doubts: how it differs from the rest of eyelash treatments, if it is better than eyelash extensions, its benefits … All your questions, answered!
I want to tell you about lash lift, a treatment that I have discovered many years ago, and I have found it super essential for those of us who like to have heart-stopping eyelashes but always maintaining our naturalness. Little by little the summer is approaching and in my case, I like to look very natural but beautiful, it allows me to wear the perfect eyelashes as if I had always made up. In addition, I know that I am taking care of them with the best products and that every time I do it, my eyelash is born with more strength, volume, nourishment … You have to try it, you will want it again for sure!
At Elite Look, lash lift is a treatment that improves the structure of your lashes while giving them a curved and elevated shape. It is a very advanced system with which it is possible to show off higher, darker and thicker eyelashes without the need to apply a curler or mascara.
It is a non-invasive aesthetic treatment. Your lashes nourished, regenerated and thickened with a natural and healthy appearance.
What everyone wants, that effect of open eyes, raised, curved, dark and voluminous lashes is achieved in its entirety; but at the same time, and no less important, the eyelash is treated internally, restructuring it. For this, very mild products are used that do not harm at all, but nourish and provide active ingredients. Maximum use of natural ingredients is made in the treatment formula.
Wheat provides micro-proteins and rebuilds the three parts of the hair, giving a volume and filling effect.
The grape, which is an anti-ageing, provides a free antioxidant and anti-radical effect.
Aloe that provides extra hydration.
Keratin is very necessary for the process.
The time that is dedicated to this aesthetic treatment is approximately 60-75 minutes since it is a very meticulous job in which each eyelash is lifted to place them perfectly and begin with the application of the necessary products.
It is convenient to go without any type of makeup residue since that would hinder the work and the result would not be the same; If you use contact lenses, it is advisable to take them off and put them back on at the end.
This treatment, by ethical principle, it respects nature and every living being, so it does not contain any component of animal origin or animal testing. Lash lift in full compliance with the rules and respecting the guidelines of the institutions. It is gluten-free (it does not contain gluten) and it does not contain parabens. It can be applied at any time of the year and can be applied to pregnant women or while breastfeeding.
The result is darker, higher, visibly longer and fuller lashes. Once done, you can live normally, play sports, swim, sleep with your face on the pillow … They remain intact whatever you do! You will not need to use mascara, which is very beneficial news because I do not know if you know but the use of mascara every day causes an occlusion to your eyelashes. Don't worry, the lamination treatment will benefit them.
Lash lift is not the same as lifting or a tint and perm of eyelashes, take it into account.
At Elite Look there are two different groups of clientele. Some request the treatment and others (in the case of professionals in the sector) request the training given at our salon to be able to put it into practice and function in their salons.
With this I end, I believe that I have given you more than enough reasons for you to be advised by the salon professionals and perform the lamination of eyelashes that is so all the rage in Italy. Try it! I assure you that you are going to want more and more, and you will see how your eyelashes take a radical change as you progress with the treatments in addition to the comfort it entails.
If you are a professional in the beauty sector, and you want to be able to perform this service in your salon, you just have to call and ask for our fully personalised training and get to work!
As always, I have the pleasure to tell you more and to show you new things and special treatments.
Sincerely yours Elena
Frequently asked questions about eyelash lift
The Eyelash Lift is a treatment that lengthens and creates a slight upward curve in a "natural" and lasting way, achieving a sensation of greater length and thickness.
The Eyelash Lifting treatment is a great option, below we give you answers to the most frequent questions that usually arise when it is going to be done for the first time.
What is an eyelash lift?
The process is done with a new technique, in which silicone pads are used, which adjust to the eyelid and after applying lifting gel, stretching from the roots to the tips is achieved.
It is the eyelash itself that rises from the root, lifting, without bending, the hair towards the tip, raises the curvature of the eyelash in a "natural" way, thus generating an effect of greater length.
After lifting, natural eyelashes will appear visibly long without the need for extensions.
Creates an effect of greater length and thickness.
We recommend that before applying the treatment you do not use makeup and if you wear contact lenses, you will have to remove them before the treatment.
Do I need to prepare for the lash lift?
Because the Lash Lift uses your natural lashes to create that look, this treatment will last up to 4-6 weeks and without the need for any maintenance appointments between treatments.
How long will the lash lifting effect last?
As with any beauty treatment, the results can vary from one person to another, and some activities, such as swimming for example.
If your eyelash lift does not last the full 6 weeks, the minimum time that must pass before you can repeat the treatment is 6 weeks after the initial procedure.

Can I keep using my favorite lash enhancers?
The growth stimulating serums and any other treatment to nourish the eyelashes can continue to be used 24 hours after the application of the Eyelash Lifting treatment.
It is advised not to use an eyelash curler after your Eyelash Lift, the use of an eyelash curler can weaken and damage your eyelashes.
Is a lash lift similar to a lash perm?
No.
While the chemicals used in the Eyelash Lift are the same products in a permanent one.
In the Lash Lift, silicone pads will be used to lift the lash up from the root.
In the perm, rollers or curlers are used, the effect is also a curl or curvature but it does not give as much feeling of lifting.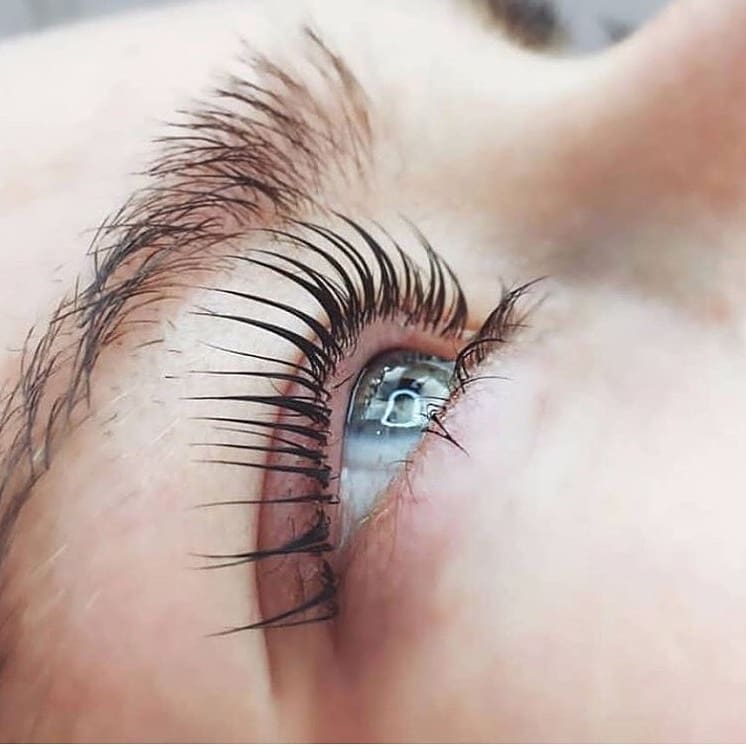 Will the lifting of eyelashes hurt?
Not at all.
An eyelash lift is a completely painless and non-invasive procedure.
You will need to keep your eyes closed for the duration of the treatment, so take advantage of that time to relax.
Is the lash lift procedure safe?
Yes.
The chemical procedure used in the Eyelash Lifting is safe, proven products are used, safe to use in the eye area.
However, as with any treatment, the allergy test is recommended, if you already have an allergy or have any questions, 24 hours before.
A patch test is simple, a small amount of lotion will be placed behind your ear, after 15 minutes, the area will be cleaned and evaluated for any irritation, redness or inflammation during the next 24 hours.
Will lifting eyelashes damage my natural lashes?
No.
The chemical procedure used in the Eyelash Lift is safe for your natural eyelashes.
What you may experience is some redness around the eye immediately after the process, however this is due to the pressure from the pads disappearing within a few minutes.
The Lifting gel is a chemical product, which despite being manufactured for the eye area at first can give a sensation of some stinging but it is only because of the vapors and it is totally temporary.
Can I wear makeup after the lash lift?
Definitely yes!
If you want to improve your lash lift even more, wait 24 hours after the treatment to put on your favorite mascara.
A non-waterproof mascara is recommended as it is easier to remove than a waterproof one, keeping newly lengthened lashes protected against vigorous makeup removal.
Yes.
But please wait 24 hours after the procedure before doing this, and make sure the product is oil free.
Can I use an eye makeup remover?
Yes.
But please wait 24 hours after the procedure before doing this, and make sure the product is oil free.
Before doing an eyelash lift, it is advisable that you provide information taking into account the following general risks and potential complications.
General safety information for lash lift
Although they are minimal, there are recognised risks for clients receiving an Eyelash Lift treatment:
Eye infections and disorders
Recent eye surgery
Treatment allergies
Very sensitive eyes
Hay fever sick / Water eyes
Conjunctivitis
Dry eye syndrome
Using prescription medicated eye drops
Pregnancy (we do not recommend this treatment for pregnant women)
Medications – Thyroxine (in some cases can prevent eyelashes from curling)
Contact lenses – will be removed during treatment application
The first 24 hours after receiving the lash lift are the most important for efficacy and safety.
Eyelash Treatment Post-Care Instructions
During this period, be sure to:
Keep your lashes dry and makeup free.
Avoid any cream or lotion that has oil in it.
Usually:
Do not use waterproof mascara.
Don't use an eyelash curler.
Do not rub or irritate the eyes.